You are here:
Dry ice process
1. What is dry ice?
Dry ice is the solid form of CO2 with a temperature of -79°C. Carbon dioxide (CO2) doesn't exist as a liquid at room temperature and at atmospheric pressure. So dry ice doesn't melt (hence it is "dry") but sublimates - meaning that the CO2 goes directly from solid to gas as it absorbs heat.
For cleaning purposes dry ice in the form of 3 mm diameter pellets are most commonly used.
For cooling and catering purposes, we recommend 10 mm or 16 mm diameter sticks.
---
2. How is dry ice made?
Dry ice pellets are made from liquid CO2 stored in a pressurised tank. When expanding the liquid CO2 it forms snow. This snow is compressed and extruded through an extruder plate giving the final dimensions of the pellets. The equipment producing the pellets is called a pelletiser.
Dry ice pellets are stored and transported in well isolated containers. Good quality containers will limit the evaporation of the pellets to a few percent per day.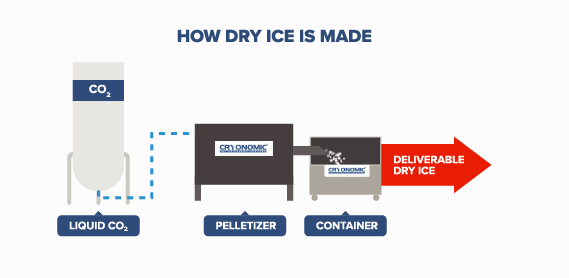 ---
3. CRYONOMIC animation clip dry ice blasters for industrial cleaning.
Dry ice blasting is an efficient and environmentally friendly cleaning technique that makes use of dry ice pellets. The technique can be used in all kind of production environments. In the animation clip you will learn more about dry ice cleaning and its advantages compared to classic cleaning methods.
---
4. How can we use dry ice for cleaning?
Dry Ice Cleaning, also known as cryogenic cleaning, is a blasting technique similar to sand blasting, but makes use of solid CO2 or dry ice pellets. On impact the pellets vaporize to carbon dioxide gas and increase in volume by a factor of 700. Due to this expansion the contaminant is lifted and separated from the base material. CRYONOMIC® produces daily dry ice blasting equipment and export these to many countries worldwide.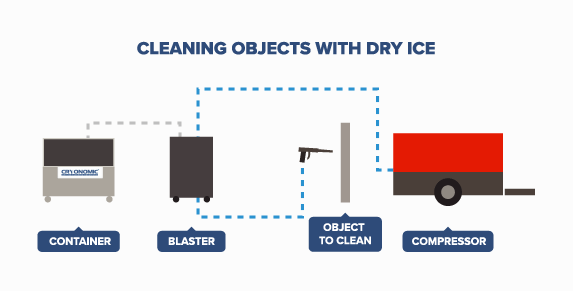 ---
5. The advantage of using dry ice pellets as blasting material is twofold:
1. The very low temperature of the dry ice pellets (-78°C or -109°F) causes the contamination to freeze and contract resulting in the easy detachment of the contaminant from the substrate.
2. The dry ice pellets vaporize to carbon dioxide gas on impact, which means that only the original contaminant is left for disposal. This natural evaporation of dry ice pellets is a major advantage of the dry ice cleaning method.
Read more about the advantages of dry ice blasting.
---
A nice alternative for sandblasting
In contrast to sandblasting, dry ice blasting does not create any secondary waste because dry ice sublimates on contact. This makes dry ice blasting a more ecological technology than sandblasting! The dry ice blasting machines are also much lighter and compact than sandblasters what makes you easier to move and replace. Last but not least... dry ice blasting does not damage the surface of your cleaning object, sandblasting does because it is highly abrasive.
---